6 marca po raz pierwszy w tym roku zawita do nas Kino objazdowe!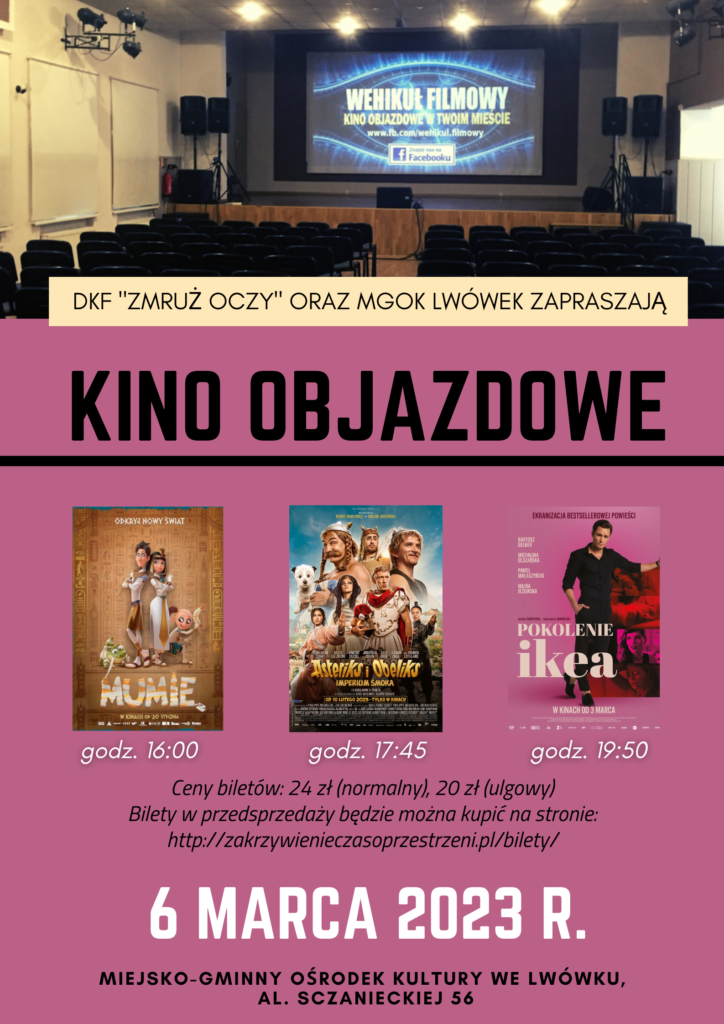 REPERTUAR – 6 MARCA 2023 R. – MGOK LWÓWEK
16.00 – Mumie
Reż. Juan Jesús García Galocha
Prod. Hiszpania 2023, 88 min
W Egipcie, głęboko pod ziemią, znajduje się liczące sobie 3000 lat miasto mumii. Zgodnie z królewskim rozkazem księżniczka Nefer musi wyjść za mąż za Thuta, ale żadne z tych dwojga się do tego nie pali. Nefer pragnie wolności, a Thut na wszelkie zobowiązania reaguje alergicznie. Przed wolą bogów nie ma jednak ucieczki. Thut będzie musiał ożenić się z Nefer już za siedem dni. Musi też przynieść na ślub starożytny pierścień, który wręczył mu sam faraon.
17.45 – Asteriks i Obeliks: Imperium smoka
Reż. Guillaume Canet
Wyk. Guillaume Canet, Gilles Lellouche, Pierre Richard, Marion Cotillard
Prod. Francja 2023, 111 min
Jest rok 50 p.n.e. Cesarzowa Chin, w wyniku zamachu stanu przeprowadzonego przez zdradzieckiego księcia, zostaje uwięziona. Córka porwanej władczyni – księżniczka Sass-Yi, wraz ze swoim wiernym ochroniarzem i fenickim kupcem wyrusza do odległej Galii, aby szukać pomocy dla swojego kraju. Tak oto poznaje Asteriksa i Obeliksa – dwóch dzielnych bohaterów, którzy nie cofną się przed niczym, aby zaprowadzić ład i porządek wszędzie tam, gdzie zapanował chaos i bezprawie… Oraz wszędzie tam, gdzie można przy okazji smacznie podjeść. Galowie z wielką chęcią przystają na prośbę księżniczki i wspólnie z jej przyjaciółmi oraz odpowiednim zapasem magicznego napoju wyruszają w długą i pełną przygód podróż na Daleki Wschód. Jednak oko na to wszystko ma także słynny wróg Asteriksa i Obeliksa – Juliusz Cezar, który jest żądny nowych zdobyczy i zbiera potężną armię, aby podbić orientalną krainę po drugiej stronie globu.
19.50 – Pokolenie Ikea
Reż. Dawid Gral
Wyk.: Bartosz Gelner, Michalina Olszańska, Paweł Małaszyński, Majka Jeżowska
Prod. Polska 2023, 103 min
Piotr Czarny to czarujący trzydziestokilkuletni prawnik. Ciągle goni za adrenaliną, kobietami i imprezami. Za cel postawił sobie zapełnienie spisu kochanek imionami na każdą literę alfabetu. Jego plan staje pod znakiem zapytania, gdy koleżanka z pracy, Olga – jedyna kobieta, z którą jest zupełnie szczery i z którą nie sypia – stawia mu ultimatum.