Serdecznie zapraszamy na koncert zespołu "Mitra", który odbędzie się w niedzielę 31 lipca o godzinie 19:00 na płycie Rynku we Lwówku.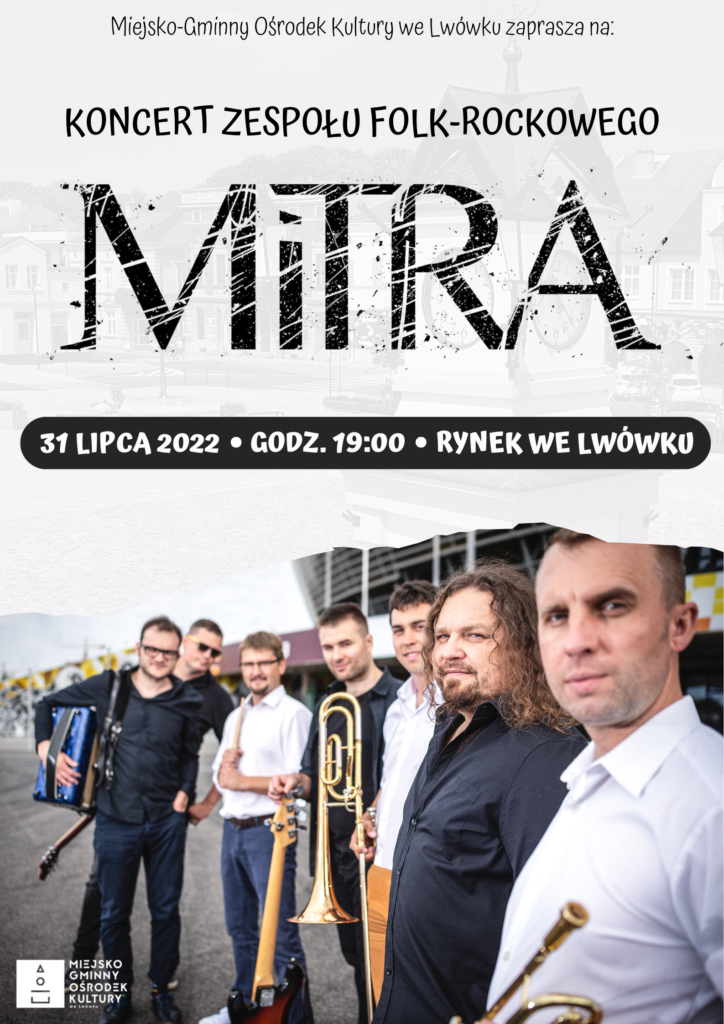 Mitra to gdyński, siedmioosobowy zespół folk rockowy, w którego twórczości można znaleźć akcenty wielu gatunków muzycznych. Spoiwem nadającym zespołowi wyjątkowy charakter jest sekcja dęta, która w połączeniu z dźwiękami akordeonu i instrumentów klawiszowych buduje niepowtarzalny klimat i stanowi wyróżniające brzmienie zespołu.
Mitra to energetyczne szybkie rytmy. W warstwie tekstowej poruszamy najważniejsze dla każdego człowieka zagadnienia takiej jak: przyjaźń, miłość, relacje ze światem.
Na przestrzeni ostatnich lat wystąpiliśmy na jednej scenie przed takimi zespołami jak m.in.: Golec uOrkiestra, Zakopower, Czerwone Gitary, Dżem, Oddział Zamknięty, Enej, Łzy, Akurat, Happysad, Kombi, Piersi, Sarsa, Urszula, Lao Che, Kamil Bednarek i wiele innych.
Zespół Mitra jest finalistą 41 Festiwalu Młodych Twórców w Świnoujściu FAMA, a także laureatem I Przelądu DOK Rock Uniwersytetu Gdańskiego. W ramach Turnieju UEFA EURO 2012 TM zespół wystąpił dwukrotnie w gdańskiej Strefie Kibica przed meczami reprezentacji Polski, grając koncerty dla kilkudziesięciotysięcznej publiczności.
W 2017 roku zespół wydał debiutancki album "Klucz", który zebrał pochlebne recenzje wsród krytyków muzycznych, jak również osób spotykanych na koncertach. Płyta "Klucz" to 11 autorskich, melodyjnych utworów oraz cover zespołu Rezerwat pt. "Zaopiekuj się mną".
W 2019 roku zespół zadebiutował na antenie radiowej trójki, a w 2022 roku nasze utwory zostały włączone do radiowej playlisty. Dodatkowo na zaproszenie stacji zagraliśmy koncert na żywo w legendarnym studiu im. Agnieszki Osieckiej. W 2022 roku pojawi się druga płyta pt. "Oj tam".
źródło: www.mitra-art.pl
Wydarzenie na facebooku – kliknij tutaj
Zaproszenie na koncert od zespołu ENEJ: