Zapraszamy na monodram Joanny Świtały poświęcony Halinie Poświatowskiej pt. "Noszę w kieszeni szminkę". Spektakl odbędzie się 24 listopada 2023 roku o godzinie 19:00 w sali widowiskowej MGOK Lwówek.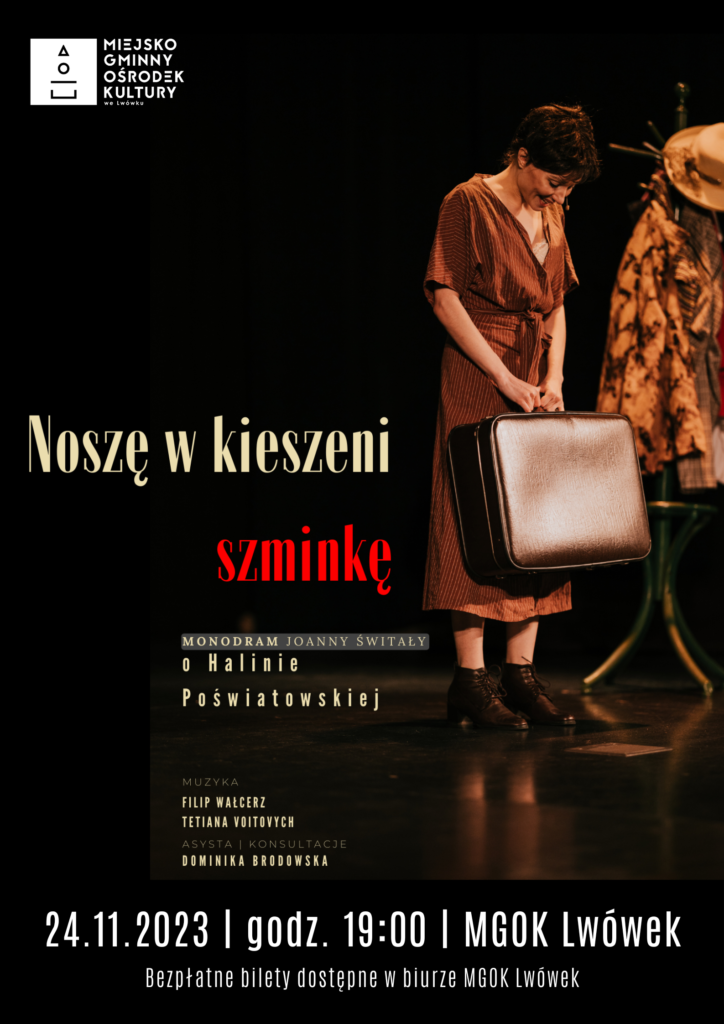 Monodram "Noszę w kieszeni szminkę" inspirowany jest życiem Haliny Poświatowskiej. Opowiada o jej odwadze. O miłości, namiętności i przedwczesnej śmierci, ale przede wszystkim, mimo choroby, o wielkiej miłości do życia.
Scenariusz jest autorski, stworzony specjalnie przez aktorkę Joannę Świtałę na podstawie biografii Poświatowskiej. Zawarte są w nim dodatkowo wiersze i fragmenty autentycznych listów poetki, by jeszcze bardziej przybliżyć jej postać widzom, a spotkanie to uczynić intymniejszym. To niemała gratka dla fanów Haśki, ale nie tylko!
Chcemy, by o Halinie, jej życiu oraz twórczości, dowiedziało się jak najwięcej osób.
Muzykę skomponował specjalnie do tego spektaklu pianista Filip Wałcerz, a także skrzypaczka Tetiana Voitovych.
Projekt otrzymał stypendium artystyczne MKiDN w 2020 roku i był realizowany w warunkach pandemicznych w Warszawie. Niedawno ruszył w trasę, by spotykać się z żywą publicznością.
Bezpłatne bilety dostępne są w biurze MGOK Lwówek od poniedziałku do piątku w godzinach 8:00 – 16:00.