Dwa tygodnie pełne radości, energii i przejeżdżonych kilometrów za nami. Wakacje z MGOK i Biblioteką we Lwówku 2022 przeszły do historii.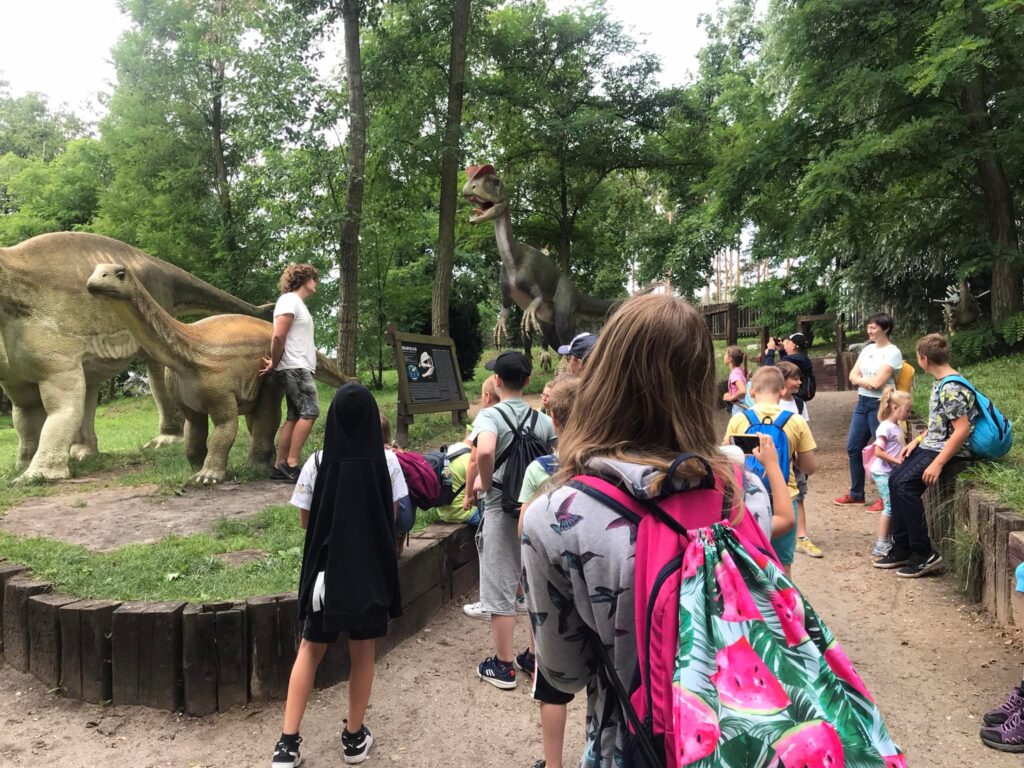 Dzieci podczas wycieczki do Zaurolandii
Pierwszy tydzień
Tegoroczne wakacje rozpoczęły się zajęciami w Bibliotece we Lwówku. Przybyłe na zajęcia dzieci miały okazję wcielić się w projektantów i wykonać worek na plecy. Pomysłów było co nie i miara, od chmurek i słoneczek po postaci z bajek. Następnego dnia odbyła się wycieczka do Deli Parku. W trakcie intensywnego dnia dzieci spacerowały w koronach drzew, pokonywali tor linowy, odwiedzili papugi, karmili zwierzęta, a także skakali na dmuchańcach, zarówno tych tradycyjnych, jak i wodnych. Dzień trzeci to wyjazd do Poznania. Najpierw wizyta w Muzeum Rogalowym. Warsztaty z przygotowania rogali były bardzo wciągające, każdy mógł się poczuć jak prawdziwy piekarz. Następnie udaliśmy się na wystawę Lego poświęconą historii Polski. W czwartek to był dzień z LaserTagiem. Dzieci za sprawą laserowych karabinków mogli się poczuć jak na prawdziwym polu bitewnym. Na zakończenie tygodnia odbył się wyjazd do parku trampolin w Śremie. Po skokach i saltach dzieci uzupełniły kalorie własnoręcznie robioną pizzą.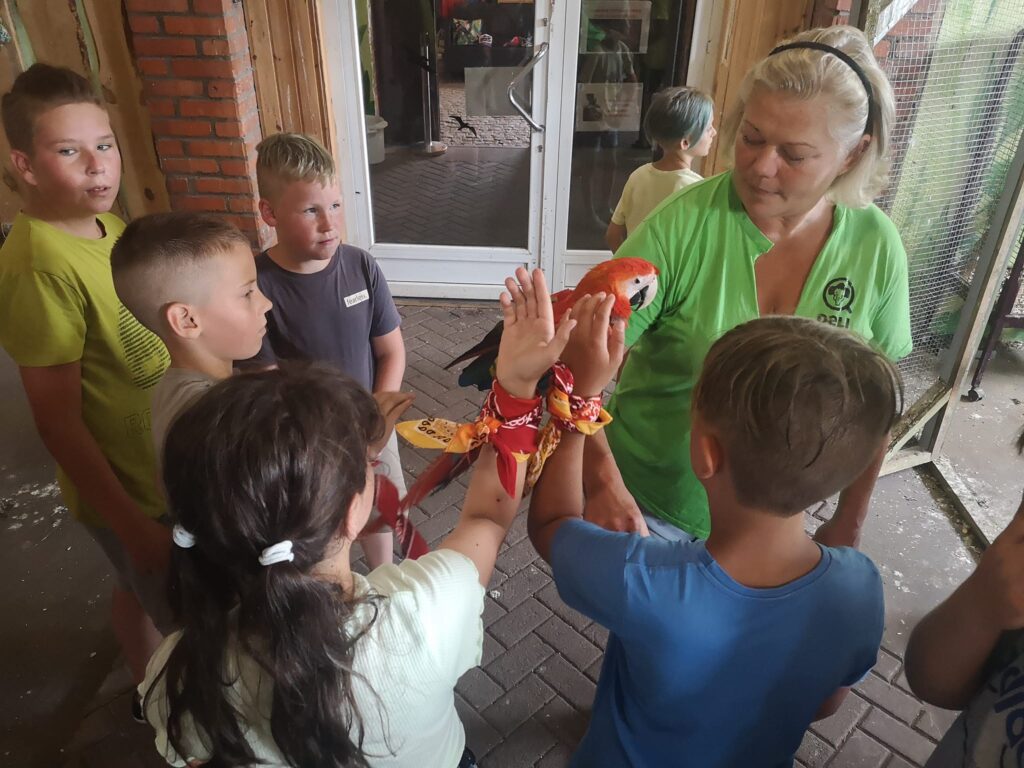 Podczas wizyty w Deli Parku dzieci zaprzyjaźniały się z papugami.
Drugi tydzień wakacji
Drugi tydzień wakacji zaczął się od bardzo ekscytującej wycieczki – wyjazd do parku rozrywki "Mandoria" pod Łodziom. Jeden z nowszych i wysoko ocenianych parków rozrywki przypadł do gustu naszym wyjazdowiczom. Następnego dnia znów spotkaliśmy się w Bibliotece. W godzinach popołudniowych dzieci mogły zagrać w gry planszowe i zręcznościowe. Jak wyglądały dinozaury tego mogliśmy się dowiedzieć w Zaurolandii – parku dinozaurów w Rogowie, do którego udaliśmy się w środę, 13 lipca. Do Józefowa udaliśmy się w czwartek. Do głównego celu wycieczki – biesiadnika udaliśmy się pieszo. Tam czekała już na nas animatorka zajęć, która zachęciła do zabawy każdego członka wyprawy. Kwintesencją Wakacji był piątkowy wyjazd do Karpacza. W Karpaczu byliśmy w muzeum Karkonoskie Tajemnice, a potem udaliśmy się na spacer do zapory na Łomnicy i przejście zboczami Karpatki (góra w Karpaczu, 726 m n.p.m.). Na końcu każdy mógł zakupić pamiątki na karpackim deptaku.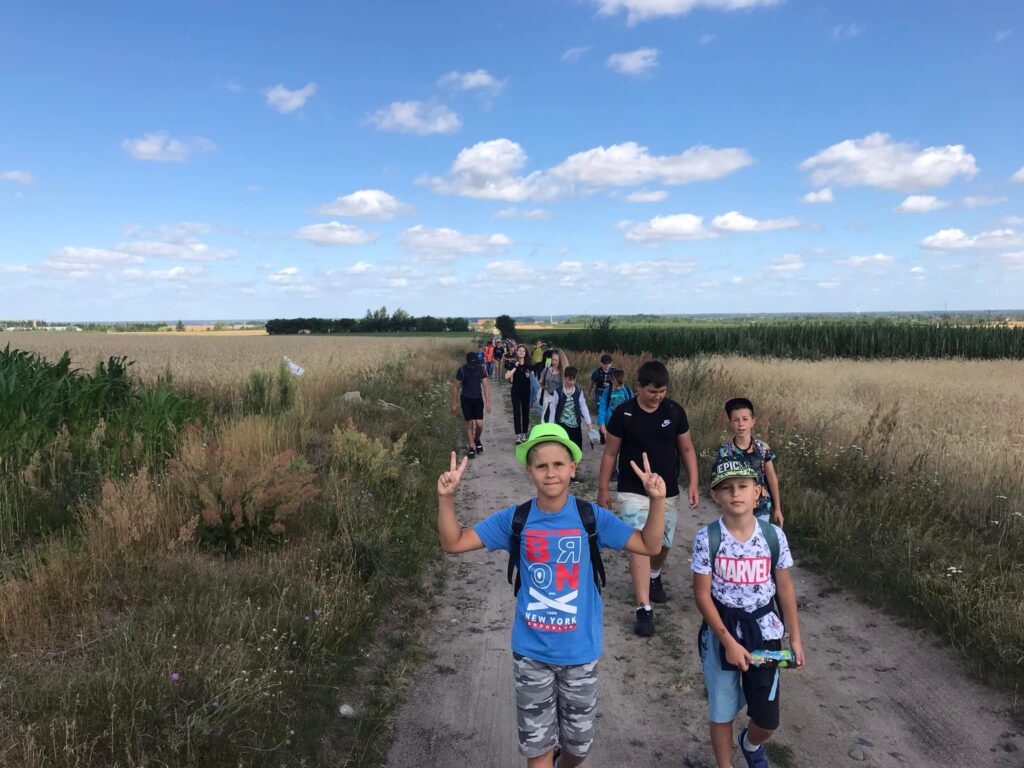 Piesza wycieczka do Józefowa.